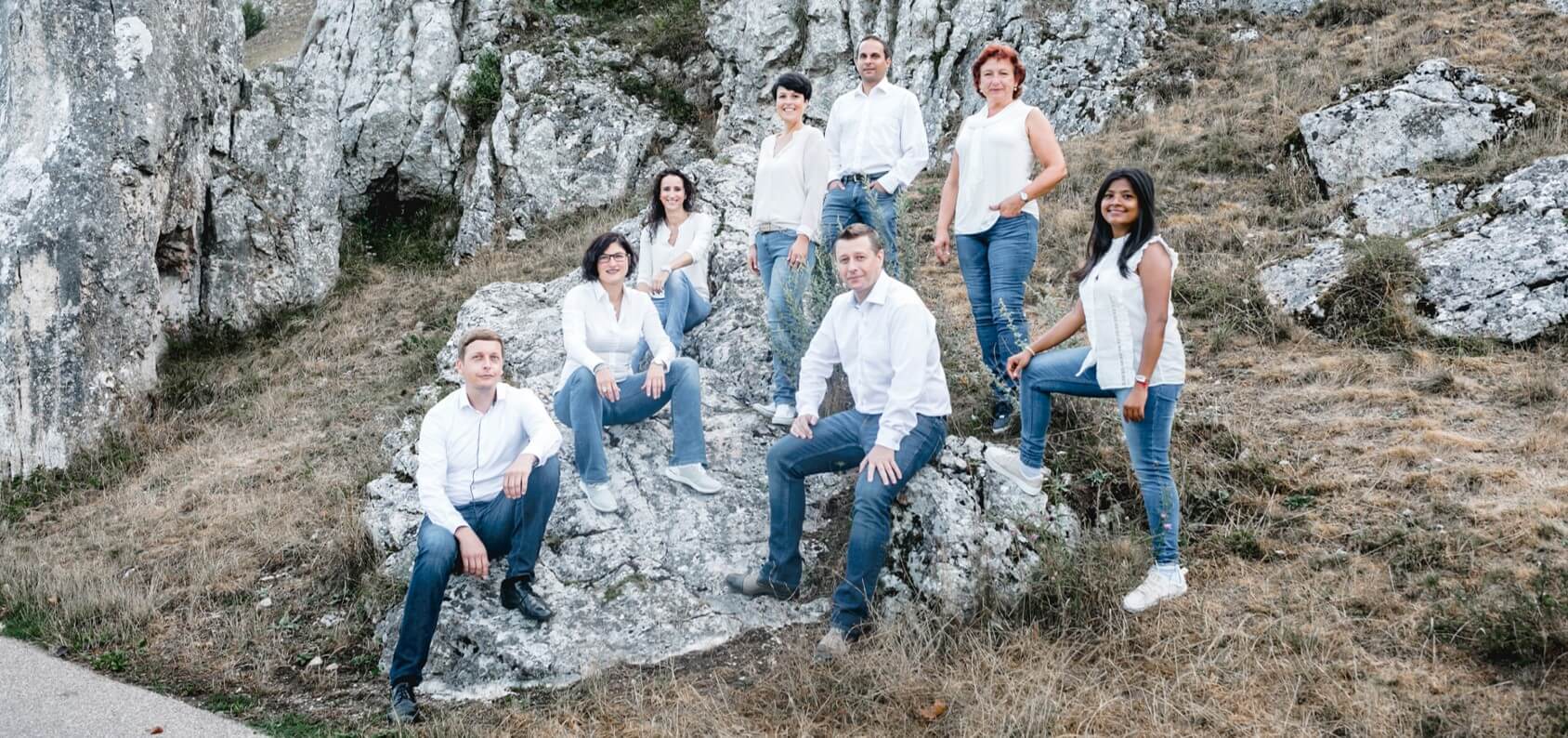 THE FORCE - PEOPLE ARE OUR STRENGTH
The high class THE FORCE Team let your ideas become reality. Together with our partner network we are not just meeting your expectations - we have the attempt to go beyond them.
---
Tanja Reischl
Owner/ Managing Director
---
Tanja has been working in healthcare industry in leadership and executive roles for the past 15 years. She spent many years in a global environment, knowing the customer and supplier side from hands on experience. Her focus is on qualitative good, compliant and safe products for the customer.

Tanja covers for us and for your company the fields of product development, regulatory affairs, production, supply chain optimization, tech transfers, quality management/Qualified Person, product compliance and pharmacovigilance. Tanja has a strong track record of delivering large scale projects. She demonstrated her skills in the areas above for companies like Pharma Stulln GmbH (CMO), betapharm and Wörwag Pharma.
Christian Stenske
Owner/ Managing Director
---
Christian has been working in healthcare industry for the past 15 years in leadership and executive rolls. He has spent many years in international settings and has a solid understanding of commonalities and differences of markets. His focus is on the customer and its satisfaction.

Christian covers for us and for your company the fields of strategy, marketing, Sales, supply chain management incl. supplier selection and negotiation, partnering and partner networks, business development, finance and human resources. He demonstrated his skills in the areas above for companies like Royal Dutch Shell, Paul Hartmann AG, and Wörwag Pharma, which are all major players in their field of business.
Reena Chaudhary
Key Account Manager
---
Reena is a pharmacist with a Master in Business Planning and Marketing. She focuses on Sales and Business Development. Reena takes care of the Key Account Management as well as Market and Customer Development. She also coordinates the roll out of new projects with all relevant departments.
Reena's experience with diverse and successful as well as international portfolios made her fit for the role, in which she had launched new products, optimized supply chain, price management (Cash Flow) , implementation of new guidelines, handling sales and budget planning.
Dr. Harald Keller
Director Quality
---
Harald is a Biologist with over 10 years practical experience in life sciences and healthcare industries. Scientific expertise, knowledge of the GMP/GDP legislation, strong analytical thinking skills plus some drops of pragmatism and creativity are his formula to handle quality related topics successfully.
Harald is an experienced auditor and managed several authority inspections. He has successfully set up whole quality systems for healthcare start-ups and supported customers in their inspection preparation process by providing customized SOPs. Further fields of expertise are supplier qualification, training systems, GDP and technical agreements for instance.
Tanja Franz
Director Sales
---
Tanja is a passionate sales manager and can look back on 22 years of professional experience in various positions in the pharmaceutical industry. Tanja brings her strong hands-on mentality to THE FORCE as well as her in-depth knowledge of the strategic development and implementation of new sales opportunities. At THE FORCE Tanja takes care of the analysis of sales structures as well as the coaching of executives and the strategic orientation in the area of OTC/RX including the management of change processes.
Julia Schmidt
Director Marketing
---
Julia is a Master of Business Administration focused on Marketing and Sales. She has more than 10 years experience in the surrounding of marketing agencies as well as on customers sides. Her core competence is the area of Online-Marketing. She combines strategic vision with conceptional planning and implementation skills.

Julia has long term experience in planning and implementing marketing strategies in national and international settings. She has been extraordinary successful in concepting and administrating fully automated, individualized and dynamized newsletter campaigns and in building coherent and communicating system landscapes covering CRM, Marketing software, website and online shop.
Nikolai Wiedemann
Marketing Manager
---
Nikolai has a University degree in Information Management. He has more than 8 years experience in the surrounding of marketing agencies as well as on customers sides. His core competence is the area of Online-Marketing. He combines strategic and conceptional elements with essential technical knowledge for a precise implementation. Nikolai has a long term experience in planning and implementing relevant Online-Marketing systems, focusing on CRM, Onlineshop, Websites and Email-Marketing. He creates state-of-the-art system landscapes not only for a special customer experience, also with a perfect automatically background interaction.
Dr. Rudite Klesmite
Director Pharmacovigilance / QPPV
---
Rudite is a medical doctor and has a Master Degree in Business Administration. She has more than 20 years experience in the pharmaceutical industry.
Rudite covers pharmacovigilance quality systems, performs PV audits, monitors benefit-risk balance of the medicines and maintains a pharmacovigilance system master file.
Rudite's long term experience in the pharmaceutical field brings together a healthy understanding of business needs and legal requirements. She has been successful in passing EU authority inspections, performing PV audits, implementing PV systems and maintaining effective quality system for monitoring medicines.
Verena Ehnle
Assistant to the CEO
---
Verena is a bank clerk with diversified experience in the management of her family's business. At THE FORCE she covers the field of Customer Support, Office- and Supply-Chain-Management and is also responsible for administrative activities and internal network.

Verena has a long term experience in managing and organizing all business relevant tasks. With her polite and charming nature, she ensures a smooth work flow and a pleasant working atmosphere. Thereby she focuses on a simple but efficient and punctual implementation.